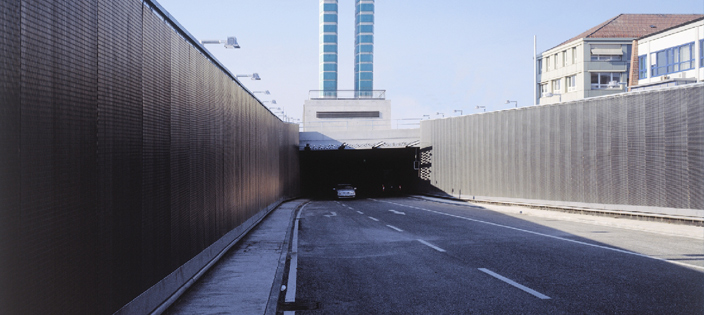 "En la anónima red de tráfico ha surgido un lugar memorable."
Scala
Las rampas del túnel están provistas de revestimientos de acero fino insonorizantes, cuyas texturas reflejan la luz de forma resplandeciente. Los elementos de tela HAVER & BOECKER del tipo EGLA-MONO n.º 4211 utilizados para ello están adaptados en cuanto al material, la geometría de mallas y el diámetro del alambre a las intensas influencias ambientales del tráfico rodado. Una síntesis especialmente atractiva de estética ambiciosa y funcionalidad.
The ramps of the tunnel are clad with absorbing stainless steel mesh panels, its texture reflects shimmering lights. Elements made from architectural mesh EGLA-MONO 4211 have been specially woven to counter the demanding environmental effects of traffic.

An especially attractive snythesis of ambitious aesthetics and required functionality.
Tunel de Fellbach
Lugar
Fellbach, Alemania
Solicitud
acústica
Tipo De Propiedad
puentes / tuneles
Arquitecto